Notification Management
Combine all your quality management notifications in one place using the internet and active server pages technology. Allow your team to make sure they know what's going on about projects, up coming meetings or anything you want to be certain they know about. Query abilities allow users to narrow down the extensive list of notifications to any combination of modules, dates, or other fields of importance.
The Notification Management module reiterates the list of Notifications on the Navigation Panel, but includes all the notifications that are no longer current. This historical reference lets users prove they did or did not know about something that may have needed to be done or not done. From the Notifications List screen users can select notifications for deletion or click on a row to be linked to the e-QMS screen that needs the user's e-signature, approval, or viewing.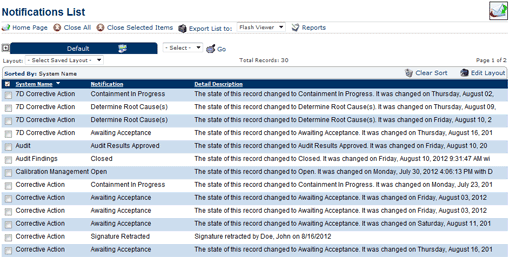 This single location for all the notifications a user receives within the system adds to the power and flexibility of the system by allowing users individually more than one way to stay on top of their current issues and responsibilities. Through Notification Management a user can keep their notifications under control and up-to-date by querying and cleaning up the notifications list. Faster, easier management of the system was built into HQMS and show through Notification Management and other core modules that simplify the execution of the system.