Non-Conformance
Manage every material and equipment non-conformance through an online database that tracks every change to every record and limits access to those in your business with the proper authorization. Produce reports and graphs through our powerful query feature. Link and reference documents to any file or issue already in the system or any new file or issue you choose to add.
HQMS allows you to manage all non–conformance issues in one centralized place. Track customer complaints, product returns, and supplier issues so nothing can fall through the cracks. Easily track status, progress and disposition of non–conformance. Non–Conformance data collection, analysis and reporting has never been easier.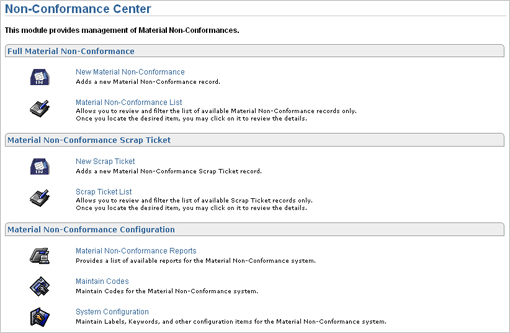 The HQMS Material Non–Conformance Module serves as a tracking system for all of your team's equipment malfunctions and hardware related issues. This module provides users with the capabilities needed to successfully monitor equipment issues, replacement, repair, and maintenance, while streamlining the parts acquisition process by allowing users to keep track of supplier involvement. Like each primary HQMS module, the Material Non–Conformance Module allows users to assign Corrective and Preventive Actions, Root Cause Analysis Actions, individual tasks, and create Opportunity for Improvement suggestions.