Meeting Management
Accessible via the Internet from work, at home, or while traveling, Meeting Management provides a centralized system to plan and track all of your meeting-related activities, including site research, sourcing, budgeting, session planning, resource and task management as well as powerful reporting from a single location. The Management Review module provides for documentation and management of various types of meetings. Where the CA/PA and Material Non-Conformance modules provide mission-specific functionality, this module provides the generalized means of documenting and managing the administration for many types of meetings.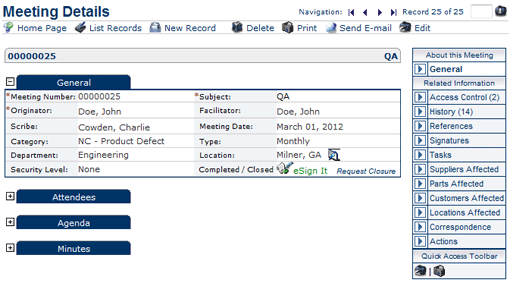 Careful planning and preparation are essential to maximizing meeting effectiveness. Governmental bodies and other groups and organizations must conduct much of their business through meetings, so it is important that these sessions be meaningful and productive. Those who participate in these groups are busy people who may be willing to become more involved if they know their time will be well spent.
A chairperson can be assigned to planning, and he or she may delegate some duties to facilitators and other individuals. But everyone who attends the meeting should be prepared to participate and contribute to the business at hand and the meeting should have a standard scheduled date and starting time. The length of the meeting may be fixed (that is, have a specified ending time), or it may be determined by the volume of business to conduct. At its first login, the facilitator can decide whether to set an ending time. It is important that the leader adhere to these times in subsequent meetings.
One of the most important parts of meeting planning is preparing the agenda. The agenda is a helpful tool for guiding discussion. The chairperson may have one or two members summarize the discussion to ensure that all meeting participants clearly understand the decisions made. When decisions and/or recommendations have been made, the system can be used as documentation to support them. For this reason, once unmistakable recommendations have been made, the system is designed to support them. Repeating or summarizing someone's contribution can be beneficial to the group's efficiency.
Meeting Management helps keep a handle on all the things that help make meetings successful. It allows agendas to be set, time schedules to be locked down and easy, straightforward dissemination of meeting minutes. Meeting Management helps keep those involved in meetings in touch and better involved in the business process between and during meetings.