Management Action
Provide a uniform method for conducting and documenting management reviews and management actions. Insure access to all relevant background information for the review, such as files, summary documents and reports. Publish follow–up reports, tasks, actions and minutes of the review in a timely manner. The HQMS Management Review module allows for easy documentation of all activities.
The HQMS Management Action Module provides the foundation for your senior staff's Issue and Action management needs. The power of the Management Action Module lies in its ability to help top level executives resolve costly defined or undefined issues quickly and efficiently. The fully customizable Management Action Module lets executives categorize all types of issues, assign responsibility, individual tasks, preventive and root cause analysis actions, add affected parts, locations, and references to each record as well. The added benefits of the HQMS Management Action Module may also be seen through the total flexibility of its reporting system. No longer is it difficult to create custom reports, charts, and graphs based on existing data. Harrington Group developers have endeavored to create an all encompassing web–based Management Action system which is fully and easily customizable to suit each individual executive's needs efficiently through the power of HQMS.
This module provides for documentation and handling of various types of response activities. Where a pre–defined action is not available, the Management Action module, along with fields for categorizing the activity, can document independent processes required to resolve a particular issue. The Management Action Center acts as a home page, providing links to the Management Action List and detail screens. The home page also provides links that allow users to create new Management Actions, view reports, and configure the Management Action settings.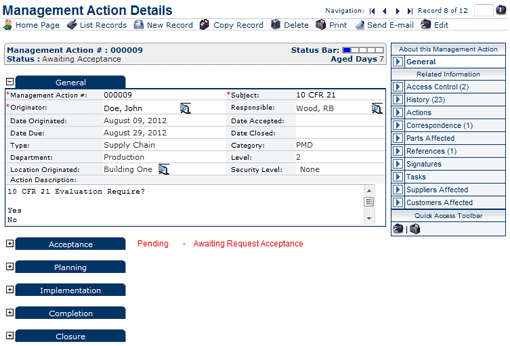 Successful Management Action is a Best Practice in management. Successful businesses are action oriented and the HQMS Management Action module can be used to manage the following:
The Management Actions of visionary, inspiring leaders who promote change: These people communicate a clear vision, and live by a strong set of values that they share with their staff through Management Actions.
The Management values that appeal to customers and staff.
Management Actions that focus on meeting customer needs and operating in a way that lets staff take pride in their business and makes customers happy to buy from them.
Management Actions that unlock the potential of their people.
Management Actions that develop their employees, making them feel valued and encouraging them to contribute to the business.
Management Actions that promote new ideas and ways of working: They identify and document the constant improvement and innovation activities
Actions that are always looking to learn from their customers and trying to anticipate and respond to their changing demands.
Actions that exceed their customers expectations: They place great emphasis on continually improving the quality of the products and services they provide.
The one thing that all of these best practice themes have in common is that they are about people manage actions, how they think, how they communicate and how they work together. Vision and change begin at the top and are implemented through a series of integrated Management Actions. It can be an individual, or it can be a team supporting the CEO that champions the continuous change process, but as one contributor observed: They do not manage change: they are change. The need to improve management action and leadership is urgent.
From the top, the vision needs to be communicated and shared throughout the organization. If you don't change your people, nothing will change, so you have to make sure everyone understands and supports what you are trying to achieve.