Task Management
Find all the tasks for every single member of your organization in one place with HQMS. Access Task Management easily and securely from any place on Earth at any time of day or night across the World Wide Web. See who has done what and who hasn't done what and follow up with those employees with praise or reminders all in one place without ever leaving your desk. HQMS provides full management of tasks with one easy stop and allows for a way to determine organizational efficiency at a single glance.
HQMS allows tracking and managing of all tasks created within any module of HQMS through the Task Management module. It allows a one stop location to see active tasks. Query functions allow sorting of the tasks to see just those for a certain user(s) or just tasks incomplete, or any combination of a variety of query options.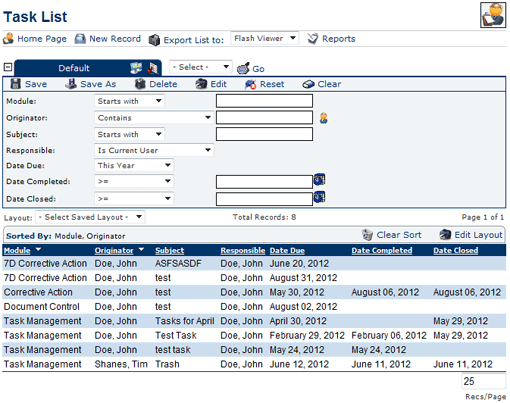 The Task Management module allows for quick and easy determination of the productivity of users within the system. Tasks that are overdue are easy to find and follow up with the appropriate responsible party. This increases organizational efficiency and means less wasted time trying to determine who has completed what tasks and who is still working on what projects. The power of the system is centered on the ability to see, manage, and track changes to every single task within the system. This gives managers the ability to provide full accountability of everything entered into HQMS.