Supplier Management
Merge all your suppliers into one location that is easy for all your employees to access from anywhere at any time and secure from outside influences with tracking of any changes made within the system. With direct links to CAPA, Root Cause Analysis and other modules, HQMS' system for supplier management allows users power through simplicity.
HQMS stores supplier data in a centralized location in order to perform cross-module analysis. The Supplier Management module allows users to search through a list of suppliers for referencing to parts, issues within the system, or contact information to order parts or gather information.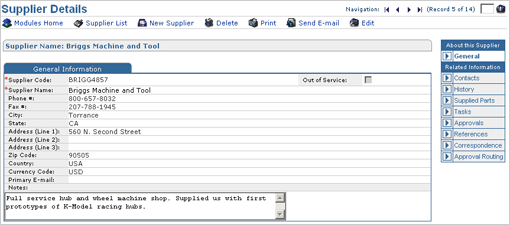 Keeping supplier data all in one place makes it quick and easy to add, remove, or change suppliers as they need to be added, removed or changed. Keeping all this information in one place makes interaction with co-workers about suppliers that much easier by making all the same information available to everyone.
Notes about suppliers also make it much easier to choose between suppliers with the same product. Comparing prices is easy with contact information for all potential suppliers' right at your fingertips and notes on which suppliers might deliver late or tend to have more defects than others. These things all add up to getting the best product for the best price, and that is what quality management is all about.