Root Cause Analysis
Provide a systematic set of steps to analyze the root cause and solution to any type of problem. Utilize the Six Sigma Life Cycle to guide users through the problem solving process successfully. Utilize checklists and prompts to guide the user through the root cause analysis process. DMAIC helps identify where problems begin and allows you to fix them before they affect the product or your bottom–line.
HQMS was designed to assist users in their efforts to successfully get to the heart of an issue and resolve it through the Root Cause Analysis module. Based on the DMAIC (Define, Measure, Analyze, Improve, Control) approach, this problem solving module leads users through the logical process of identifying and solving the most complex problems. With HQMS overseers of an analysis can add comments and make approvals or disapprovals at various stages in the process to provide those working on the analysis with timely, valuable input.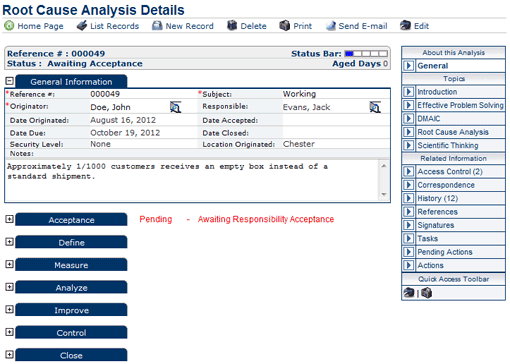 Like each HQMS module, Root Cause Analysis is fully customizable and gives users the ability to assign responsibility, add corrective and preventive actions, locations and parts affected, and individual tasks and assignments to each Root Cause record. All these thing put together in one convenient module to allow your team to maximize it's productivity.
The value of the Root Cause Analysis module within HQMS is clear. Root Cause Analysis allows complete tracking and control of all Root Cause Analyses and guides users through the DMAIC process increasing the effectiveness of any root cause analysis. These functions add to the efficiency of any quality management system and make life a lot easier for managers trying to keep tabs on all aspects of their business.