Corrective Action
Combine all of your Corrective Action needs throughout your business, using whatever methodology your organization prefers. Manage and track issues online any time from anywhere in the world 24/7 with standard, 7D or 8D Corrective Action. Produce reports and graphs through our powerful query feature. Link and reference documents and contacts to any action in the system. You decide who has access and who does not. HQMS provides full management of all corrective actions.
HQMS forces resolutions by making issues highly visible and getting the right people on the job through the customizable and secure Corrective Action module. It provides a systematic approach for documenting your corrective actions and including everybody in your process. HQMS will even help you achieve compliance with any standard including the latest ISO 9001:2008 standard through the powerful functionality of its modules.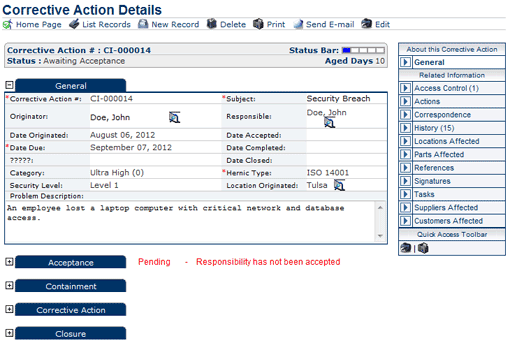 The HQMS Corrective Action, 7D Corrective Action and 8D Corrective Action Modules provide the foundation for your team's Issue and Action management needs. The power of the Corrective Action Modules lies in their ability to help end–users resolve costly issues quickly and efficiently. The fully customizable Corrective Action Modules let users categorize all types of issues, assign responsibility, initiate tasks, preventive and root-cause analysis actions, and add affected parts, locations, and references to each record as well. The added benefits include HQMS' flexible reporting system. It's easy to create custom reports, charts, and graphs based on existing data. The HQMS Corrective Action modules provide trend reports that uncover root causes quickly and easily.
The Corrective Action modules provide for documentation of activities required to contain, isolate, and correct a noted problem or deficiency. Data–entry fields are provided to describe the issue, identify its extent, document containment activities, and record all actions taken to eliminate the problem. Management reports provide for trend analysis of Corrective Actions in order to verify effectiveness of these activities.
Our solution provides a centralized system for recording nonconformities and all related information including root cause. The system works equally well for both Corrective and Preventive Action processes. Unique to HQMS is the ability to track the actions taken by each team-member as each issue is worked through resolution. Your information is collected into a knowledge base that can be used to determine the effectiveness of your corrective and preventive action efforts. Follow-up is assured and automatically documented by the issuance of post-dated action items.