Contact Management
Incorporate the records of every contact your company deals with into one location accessible from any other location on the planet. Manage and track all your contacts reliably and securely. Contact Management allows a single stop for users and administrators to query and explore for contacts without having to know who might have the contact in their rolodex or whether it is a customer or a supplier.
HQMS allows you to search through the complete list of contacts put into the HQMS system through the Contact Management module. This module contains all the contacts for all the customers, suppliers and other contacts that have been entered into the system. It allows searching for a person, if you don't know what company they work for, or what issue they're input may have been requested on.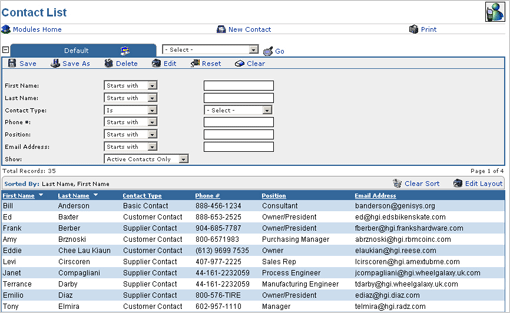 Contact Management allows users to locate and/or update contact information in a timely manner by providing all the tools needed in one place. It also allows for tracking of changes to contacts allowing users to see how long ago an address or phone number was last updated. This module maximizes time and effort use by providing access to all the contacts to all the users with rights to the.