Executive Dashboard
HQMS is capable of generating presentation-quality reports from virtually any data base, along with flexible analysis, and diagnostic capabilities, or advanced interactive reporting over the web. The following features are available:
Create reports quickly and easily with user friendly report expert solutions.
Highlight important values, add pictures or text, and configure as needed.
Have complete user control over data manipulation and selection using advanced building-block easy-touch commands.
Focus in on important data or uncover hidden relationships with charts and maps.
Distribute reports to MS Word, Excel, Text, HTML, e-mail, or over the web.
Take advantage of advanced web reporting technology for ad hoc query and analysis.
Provide for comprehensive grouping, sorting, sub-reports, and cross-tab options.
Provide a seamless integration reporting into Windows data base applications.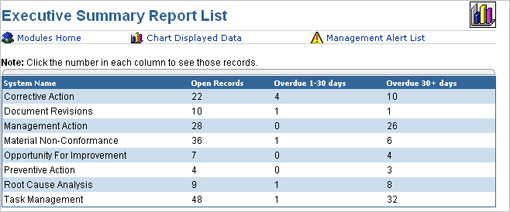 Executive Management Reports using Executive Dashboards & Key Performance Indicators
The measure of success of any implementation of business indicators is ultimately tied to the ability to generate performance improvement and impact your bottom line. In order to effect improvement, the indicators need to be backed up with an Executive Summary and reporting technology that supports a collaborative approach involving all participants in the relevant business processes across the enterprise. The greatest degree of collaboration is achieved when participants can obtain the exact information they need in real-time to answer questions. This would involve everyone including senior management, directors, managers and staff. Today's businesses operate in a data rich environment, thanks to the comprehensiveness and sophistication of modern information systems. Attempts to leverage this information often fail, due to the technical complexities of developing meaningful reports, and the latency and lack of traceability to the underlying data associated with batch reporting approaches.