Opportunity For Improvement
OFI provides a systematic set of steps to analyze any opportunity for improvement. OFI contains checklists and prompts that utilize the ISO9001:2008 Life Cycle to guide users through the process. OFI can help you uncover hidden opportunities for improvement and help reduce your operating costs.
The HQMS Opportunity for Improvement Module allows end users to catalog and track ideas which they feel would successfully benefit their corporate environment. This module serves as a tool to identify the tangible and intangible benefits of performing improvement activities. HQMS Opportunity for Improvement module also provides users with the ability to weigh an improvement idea's benefits against the actual projected cost of the improvement itself, while simultaneously tallying the data results on–the–fly. Like every HQMS module, Opportunity for Improvement is fully customizable to suit all of your team's needs.
Inputs to management review for OFI consideration can include:
results of audits
customer feedback
process performance and product conformity – likely objectives
any preventive and corrective actions
previous actions and their outcomes
any changes which could affect the QMS
recommendations for improvement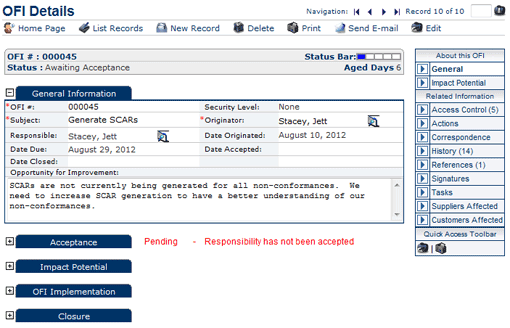 This module allows users to scope out, evaluate, and measure the impact of a particular suggestion or problem through a storyboard template, which is commonly referred to as an Opportunity for Improvement (OFI). OFI provides a workspace where an idea or problem is reviewed and improvement savings are estimated, then as the idea is implemented its actual savings can be evaluated, rated, and documented.